Epimedium Extract
Xi'an Rainbow Bio-Tech Co., Ltd
【NAME】:Epimedium Extract
【SYNONYMS】:Horny Goat Weed, Epimedium, Icariin,Echinacea Purpurea
【SPEC.】:Icariin (5%-98%), Iccariins(10%-60%)
【TEST METHOD】:HPLC
【PLANT SOURCE】:Small Ficus plants Epimedium Epimedium segittatum (Sitb.et Zucc.) Maxim.'s Shoot
【CAS NO.】:489-32-7
【MOLECULAR FORMULAR&MOLECULAR MASS】:C33H40O15 676
【STRUCTURAL FORMULAR】: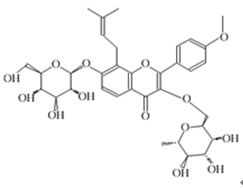 【CHARACTERISTIC】:Yellow brown fine powder
【PHARMACOLOGY】:Epimedium, also called horny goat weed, grows as an ornamental herb in Asia and the Mediterranean. In Asia, its leaves have been used for treating fatigue and boosting sex drive for a long history since 16th century. Traditionally, herbal epimedium has been used to treat disorders of the kidneys, joints and liver. Nowadays, the plant is a traditional Chinese medicine and is widely used as dietary supplement in western countries. Many species of Epimedium are alleged to have aphrodisiac qualities. According to legend, this property was discovered by a Chinese goat herder who noticed sexual activity in his flock after they ate the weed. It is sold as a health supplement; usually in raw herb, tablet, or capsule form and sometimes blended with other supplements. The over-exploitation of wild populations of Epimedium for use in traditional Chinese medicine is having potentially serious consequences for the long-term survival of several species, none of which are widely cultivated for medicinal purposes.
【CHEMICAL ANALYSIS】

| | |
| --- | --- |
| ITEMS | RESULTS |
| Assay(Anthocyanidins) | 25% Min (UV) |
| Sieve Analysis | 100% pass 80 mesh |
| Loss on Drying | 5% Max. |
| Bulk density | 50-60g/100ml |
| Sulphated Ash | 5%Max |
| Extract Solvent | Alcohol & Water |
| Heavy Metal | 5ppm Max |
| As | 2ppm Max |
| Residual Solvents | 0.05% Max. |
| Assay(Anthocyanidins) | 25% Min |
| Sieve Analysis | 100% pass 80 mesh |
【PACKAGE】:Packed in paper-drums and two plastic-bags inside.N.W.:25kgs .
【STORAGE】:Keep in cool, dry and dark place, avoid high temperature.
【SHELF LIFE】:24 months